Fire Department Members
Jared Rains, Fire Chief
Waverly Fire/Rescue Department
10530 N 141st Street
Waverly, NE 68462
402-786-3055
Waverly Fire/Rescue Facebook Page
The Waverly Fire/Rescue Department consists of 37 active members as of 1/1/2022 and is operated by an entirely volunteer squad. All squad members put in countless hours towards their community. In 2021, the volunteers responded to 340 total Fire and Rescue calls. The department serves both the City of Waverly and nearly 100 sq. miles within the Waverly Rural Fire District.
The Waverly Fire/Rescue Department provides fire protection and emergency response services to the Waverly community. The Fire Department's mission is to prevent the loss of life and property. In addition to responding to fires, the Waverly Fire And Rescue also responds to medical emergencies, motor vehicle accidents, rescue calls, and incidents involving hazardous materials.
Waverly Fire/Rescue Leadership - 2022
Fire Chief - Jared Rains
Assistant Fire Chief - Ryan Mueller
Emergency Services Coordinator - Aaron Hummel
Captain - Brent Cooper
Captain - Robin Hoffman
Captain - Jeff Jones
First Lieutenant - Tell Hanes
Disaster Preparedness Manager - Terry Spoor
Storm Team Leader - Nathan Vidlak
Ryan Mueller, Assistant Fire Chief 2021 Civic Plus Small Town America Civic Volunteer Award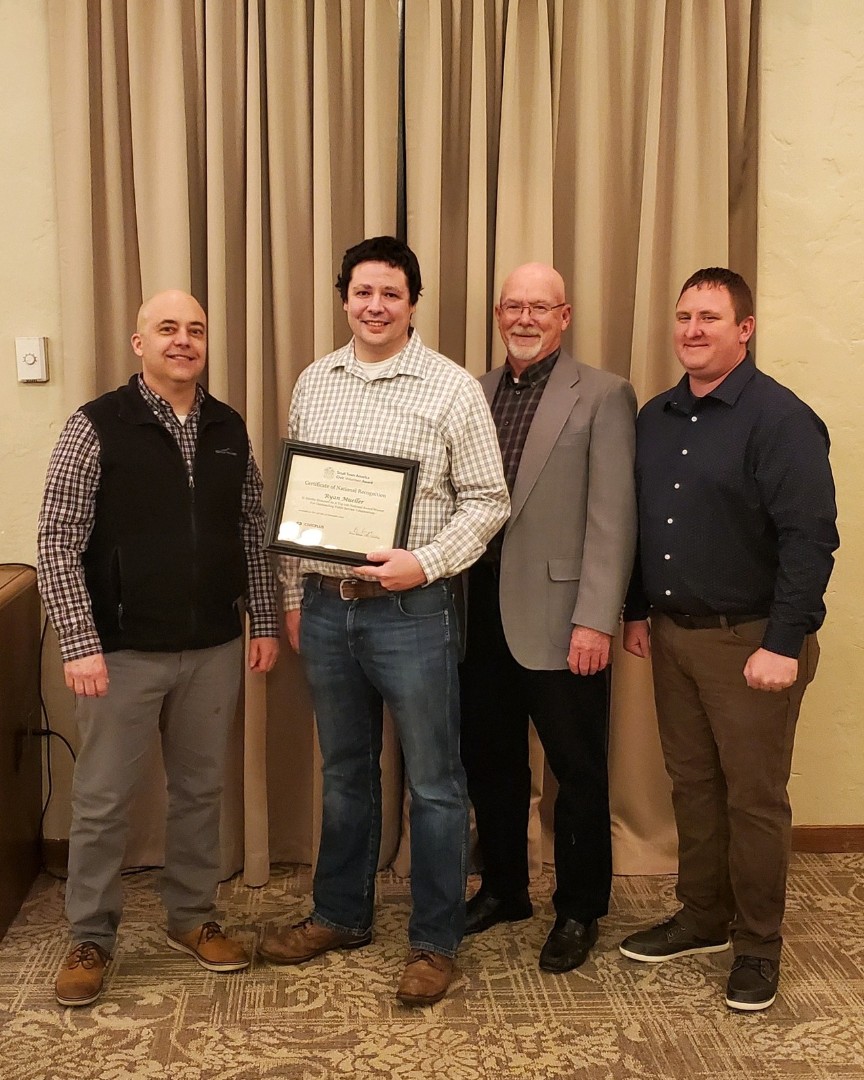 On February 18, 2022, Ryan Mueller received the 2021 Civic Plus Small Town America Civic Volunteer Award. Mueller came in the top 100 national out of more than 700 applications in 49 states. Mueller began volunteering on the Waverly Fire/Rescue Department in April 2010.
2021 Department Photo



Photo Credit Waverly News, Elsie Stormberg 9/13/2021

Truck: Waverly 31, Engine

Back Row, Left to Right: Ryan Mueller, Brent Cooper, Robin Hoffman, Bill Gerdes, Caleb Bishop, Aaron Hummel, Greg Gerlach, Pat Peterman, Larry Fichtner, Marcus Tan, Joseph Hummel, Tell Hanes, Jeff Jones

Front Row, Left to Right: Cyndi Abbot, John Wilson, Nathan Vidlak, Nancy Myer, Michael McClellan, Ashleigh Jones, Jessica Oakes, Hannah Wood, Katelynn Loper, Jared Rains

Volunteers not pictured: John Adams, James Bartels, Jon Binder, John Catsinas, Travis Dinkel, Sean Hummel, Kody Nelson, Brad Pfeifer, and Paul Shlimper