Camp Creek

CAMP CREEK THRESHERS
17402 Bluff Road
Waverly, NE 68462
402-786-3003
The Camp Creek Threshers are a part of the Rural Nebraska Heritage Association. We are a non-profit volunteer organization whose purpose is to preserve and educate about the agricultural and industrial heritage of the plains and Nebraska. Each year several events are hosted at the association grounds just east of Waverly, Nebraska. The featured event occurs each summer during the third weekend of July which is the antique machinery and threshing show. During the show many types of antique equipment can be seen operating helping to bring the past alive for those who remember it and to educate all about the past we come from. There is something for all to enjoy at the Camp Creek Threshers. They also host an annual swap meet in May with flea market and food vendors, a fun run in June, and railroaders the third weekend in September, where individuals are invited to ride the trains. They also host an annual trunk-or-treat, which is free to the public, called Eek at the Creek in mid-October. Please visit the affiliated links for more information.
Camp Creek Threshers Facebook Page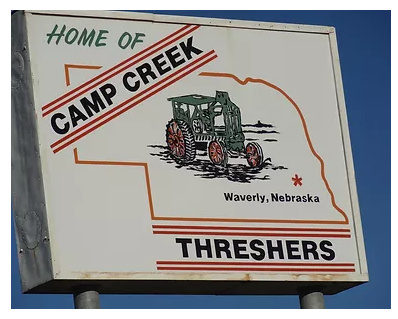 Camp Creek Threshing Show
Steam engines, gas engines, and tractors will be on display as the camp creek threshers hold their annual show. The showgrounds are located two miles east of Waverly on Bluff Road. An old-time threshing bee will held and visitors will have the chance to visit a one-room schoolhouse, country church, steam building, print show, harness barn, outdoor kitchen, craft building, as well as the Waverly Depot that has been moved into their grounds. The Camp Creek Railroaders will have miniature steam trains traveling through the grounds. Both mornings will begin with a pancake feed and , during the day, there will be plenty to eat as concession stands will be open. There will be an admission fee, but parking is free.